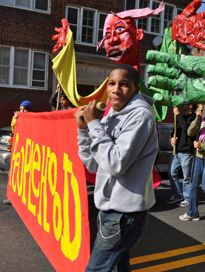 THANKFUL. 
Coming out of the post-Peoplehood haze, we have been overwhelmed by the outpouring of positivity and appreciation for Peoplehood. Many people have expressed their gratitude with kind words, among them, "I left energized!" and "It was the most soul-affirming thing I've done in a long time…I actually got kind of choked up at the end!" We are grateful to YOU. Peoplehood is powered by the people, so we thank you for bringing your love, laughter and enthusiasm and making this Peoplehood the best ever! Thousands of people were drawn to the art-making, skill-sharing, and performances in the park, making this the biggest Peoplehood to date.
TRANSFORMED.
Times are hard, but unlike other events, you can't cancel a holiday! With fewer fiscal resources to rely on, we turned instead to our core values of collaboration, inclusion, self-determination, sustainability, and learning, and were inspired to do so much more, even with less.  It took a wealth of creativity and collaboration to bring Peoplehood to life this year. Our core values provided the foundation for seamless partnerships with our presenting partners, the Community Education Center, The Rotunda, and the Paul Robeson House, as well as over fifty local organizations, together capitalizing on our collective resources to make this larger than life vision a reality.
INSPIRED.
The spirit of Peoplehood – the courage of our communities to act on their convictions – drives everything we do at Spiral Q. Though the holiday is over, we are busy as ever bringing its spirit to communities across the city, and the activists and artists working in the studio bring it here with them every day. We are bringing it to Bache Martin Elementary, where we are working with every student in the school  Your support allows us to inspire other and to continue building strong and equitable communities characterized by creativity, joy, can-do attitudes and the courage to act on their convictions.
As the end of the year approaches, will you help us continue to bring inspiring events to communities around our city? Donate today to keep the spirit of Peoplehood alive in the year to come!
THANK YOU to All of the Participating Groups!
ACT-UP, BuildOn, Education Works, Flat Mary Road, Friends of Clark Park, Girard Medical Center, Granny Peace Brigade, Harris Steppers, Lary Moten of Mosaic Theatre Productions, PLP the Unity, Project H.O.M.E., Project Theater Project Rent School Edition, Ron Wood's CEC Capeoira class, Urban Tree Connection, New Freedom Theater, West Philadelphia Cooperative School, West Powelton Steppers, Women's Caucus for Art
…and a very special thanks to our
presenting partners!
Community Education Center
The Paul Robeson House
The Rotunda